Thanks for printing! Don't forget to come back to Wings Over Washington for fresh articles!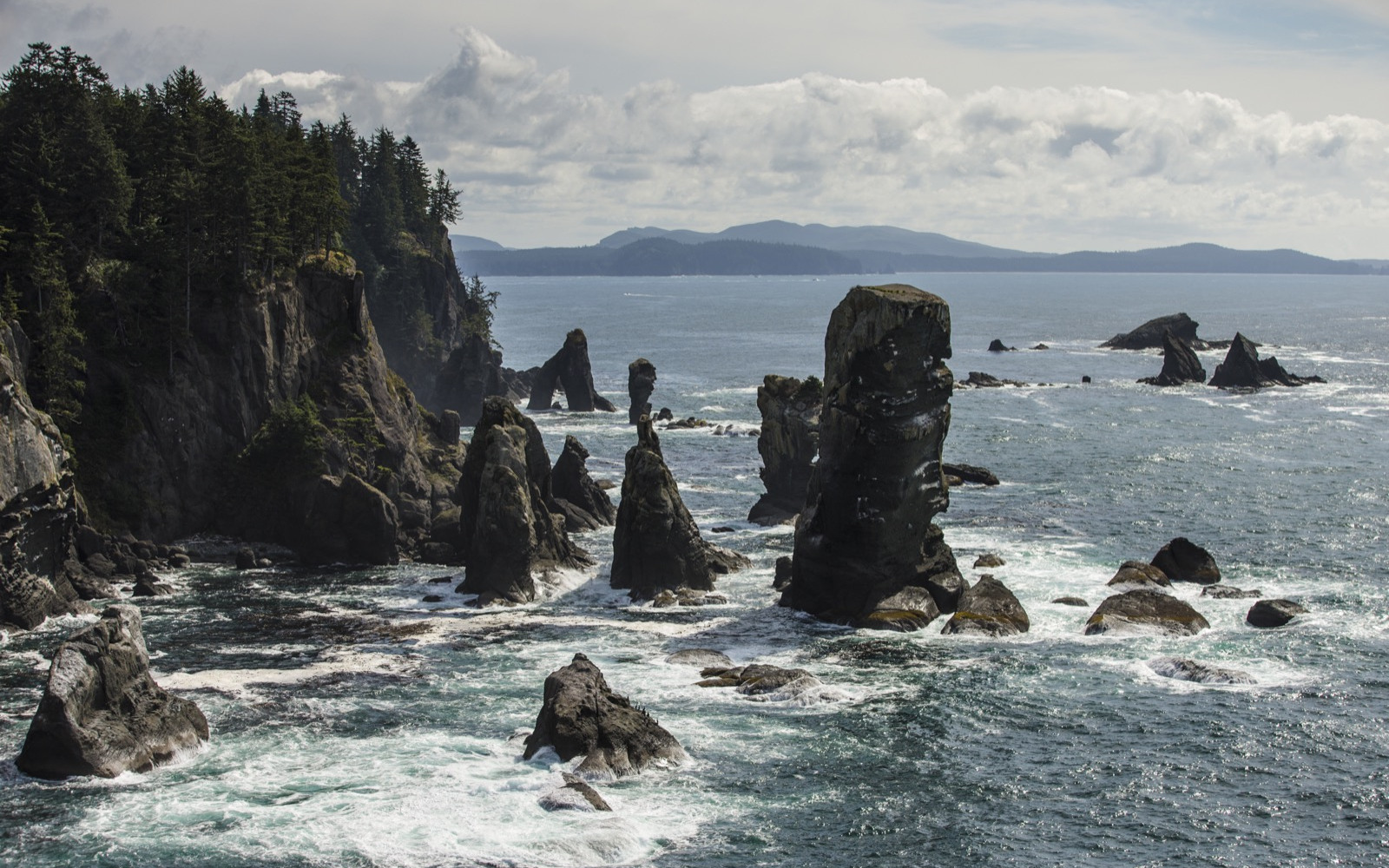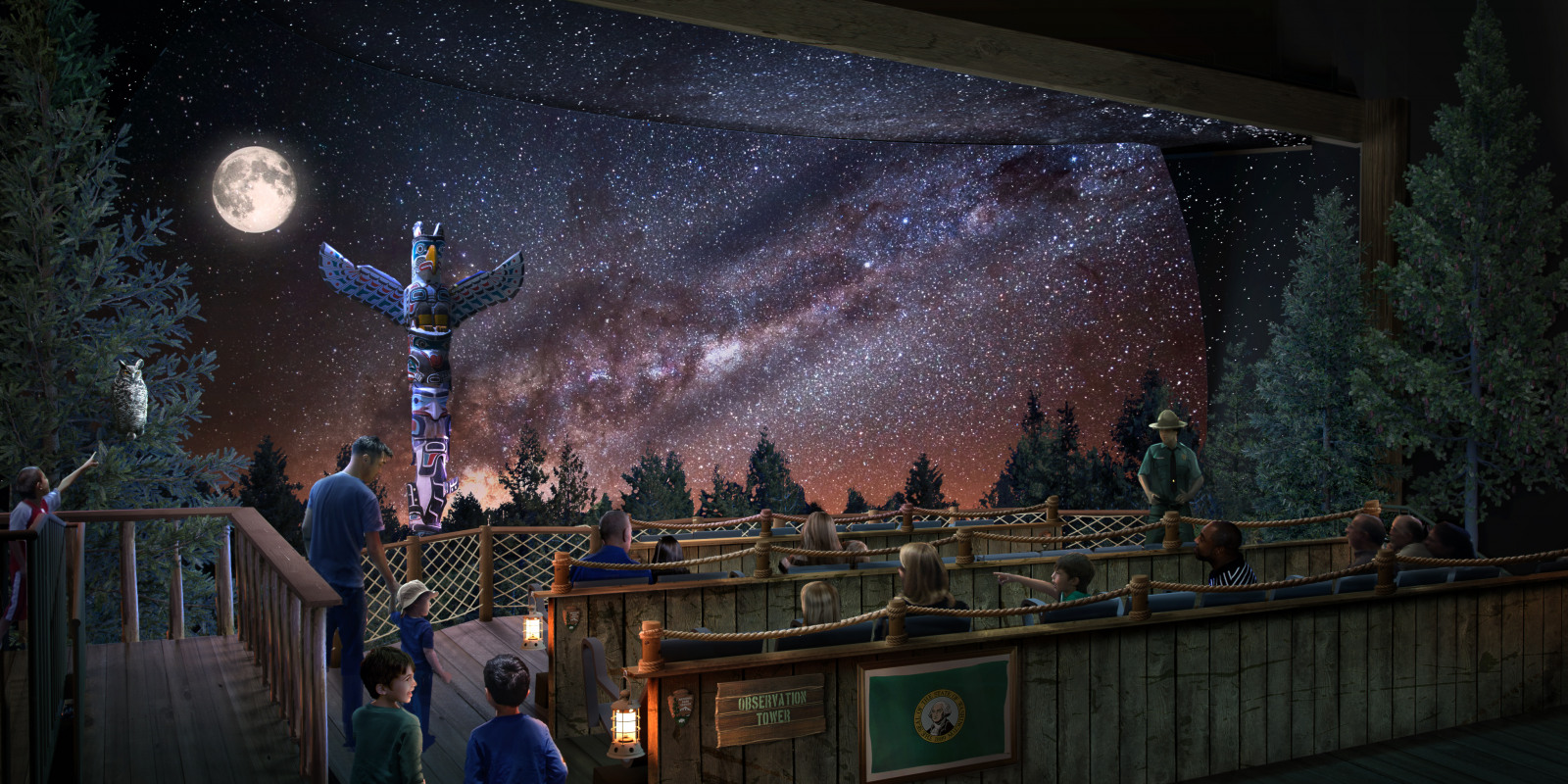 An Aerial Adventure
Take a ride in the state-of-the-art "flying theater" that will transport you on an aerial adventure above one of America's most scenic and beautiful states, Washington.
Wings over Washington is currently the most state-of-the-art theater in the world using 5K cameras; innovative art laser projection; drones for image capture; MUSHROOM VR™, and a ground-breaking surround sound system.
Once you are strapped into your theater seat, you will experience an amazing journey as a "spirit eagle" sweeps you upward into flight across the state of Washington.
You will see amazing sights and experience the smells of Washington as you dive down the seaside cliffs through the morning mists of the Olympic National Forest and Mt. Rainier to the San Juan Islands and on to the spectacular beauty of the Cascades and the awe-inspiring Snoqualmie Falls to the wild whitewater of the Tieton River and the kaleidoscopic wonder of the Walla Walla Valley Balloon Stampede then back to Elliot Bay to bank around the Seattle Great Wheel as a sensational fireworks display begins and then slowly landing back to where the journey all began.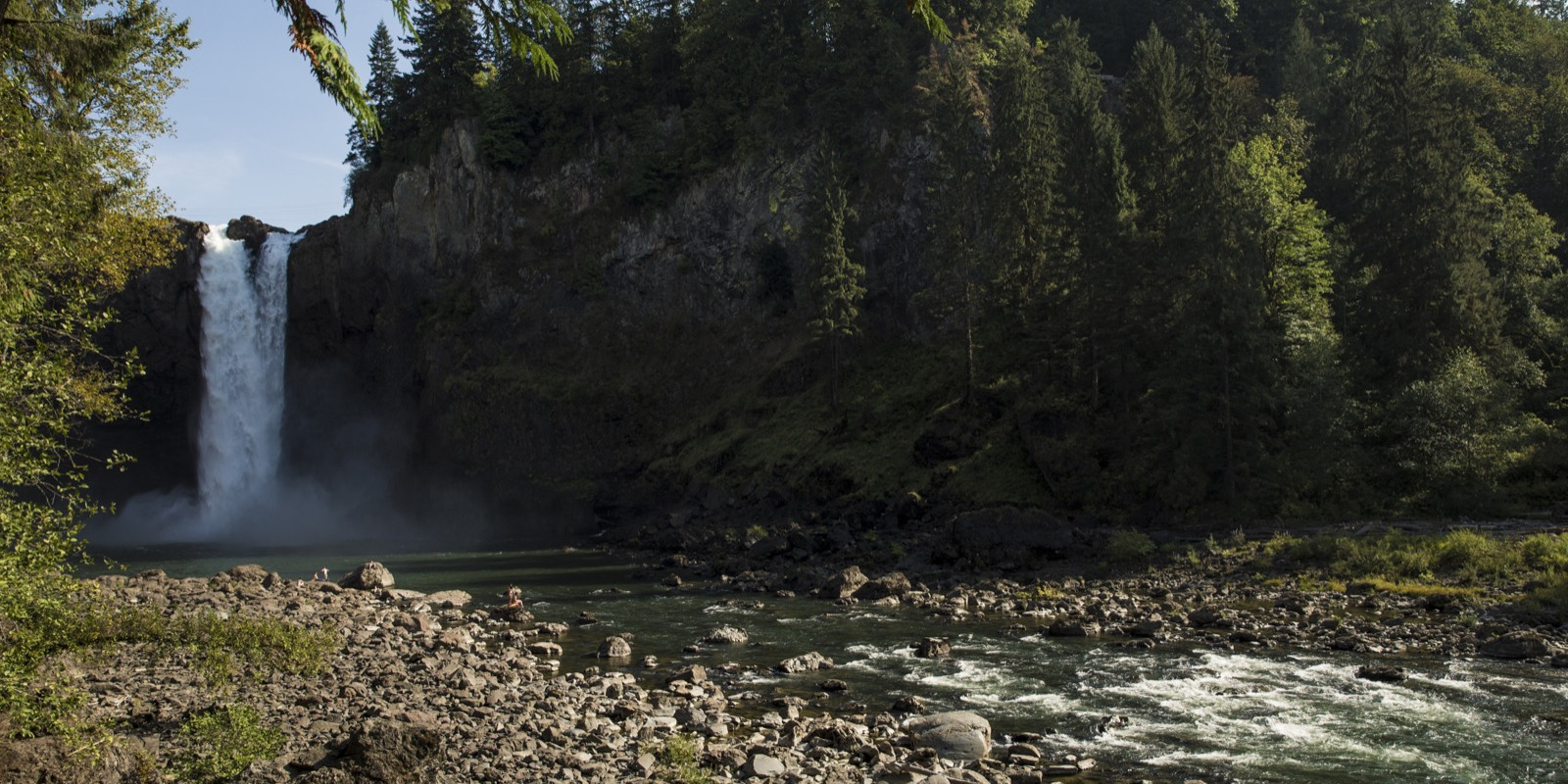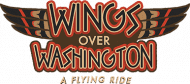 Pier 57
On Alaskan Way
Hours & Directions
Address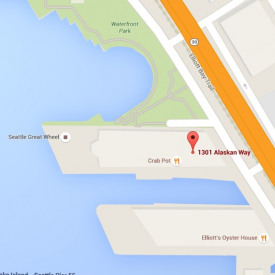 Hours of Operation
We are currently closed due to the COVID virus and social distancing mandate.
*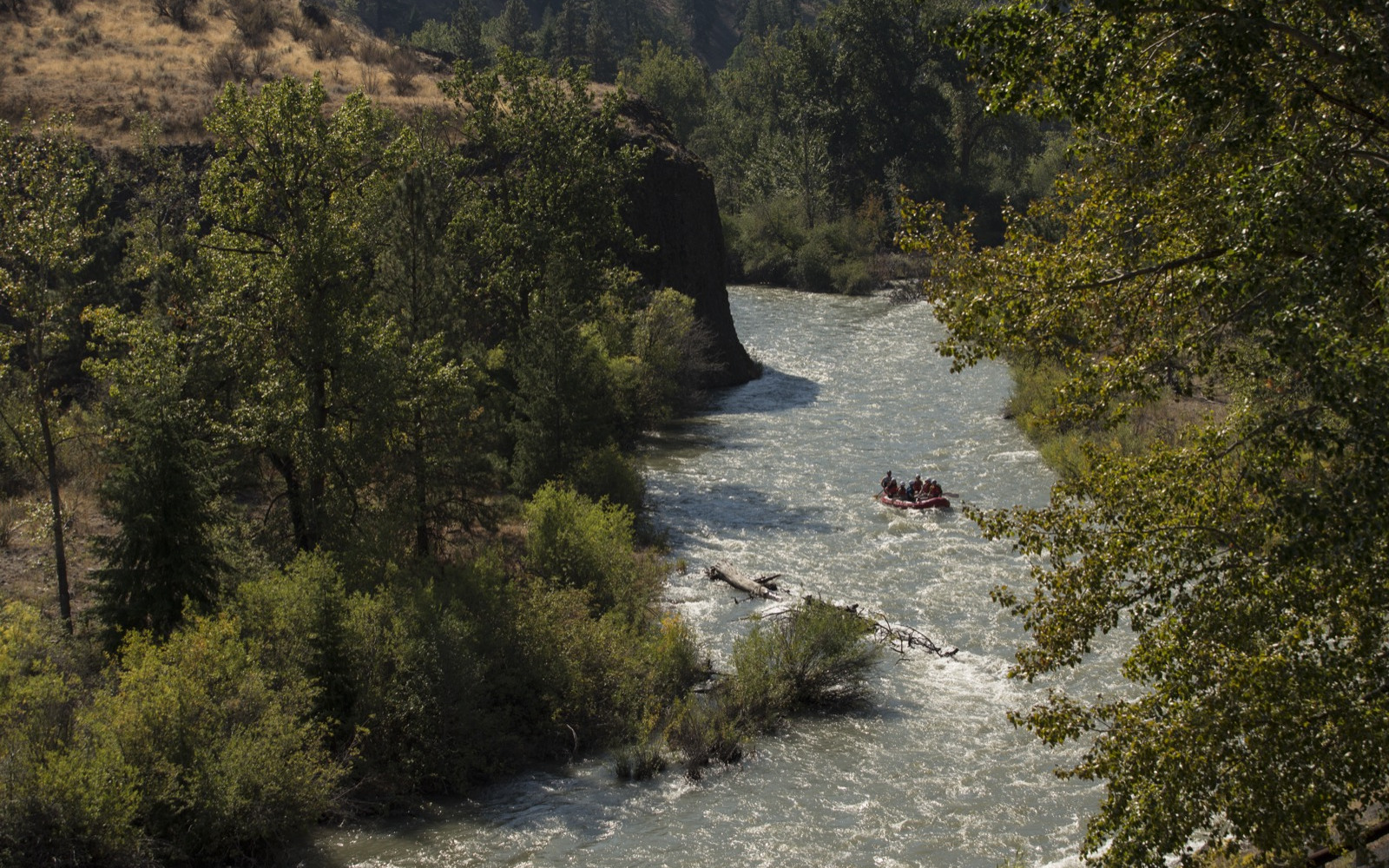 Purchase Tickets Online or At Ticket Booth
Must be at least 3 feet 4 inches (40" or 101 cm) tall to ride.
Children under the age of 12 must be accompanied by an adult or guardian aged 14 years or over.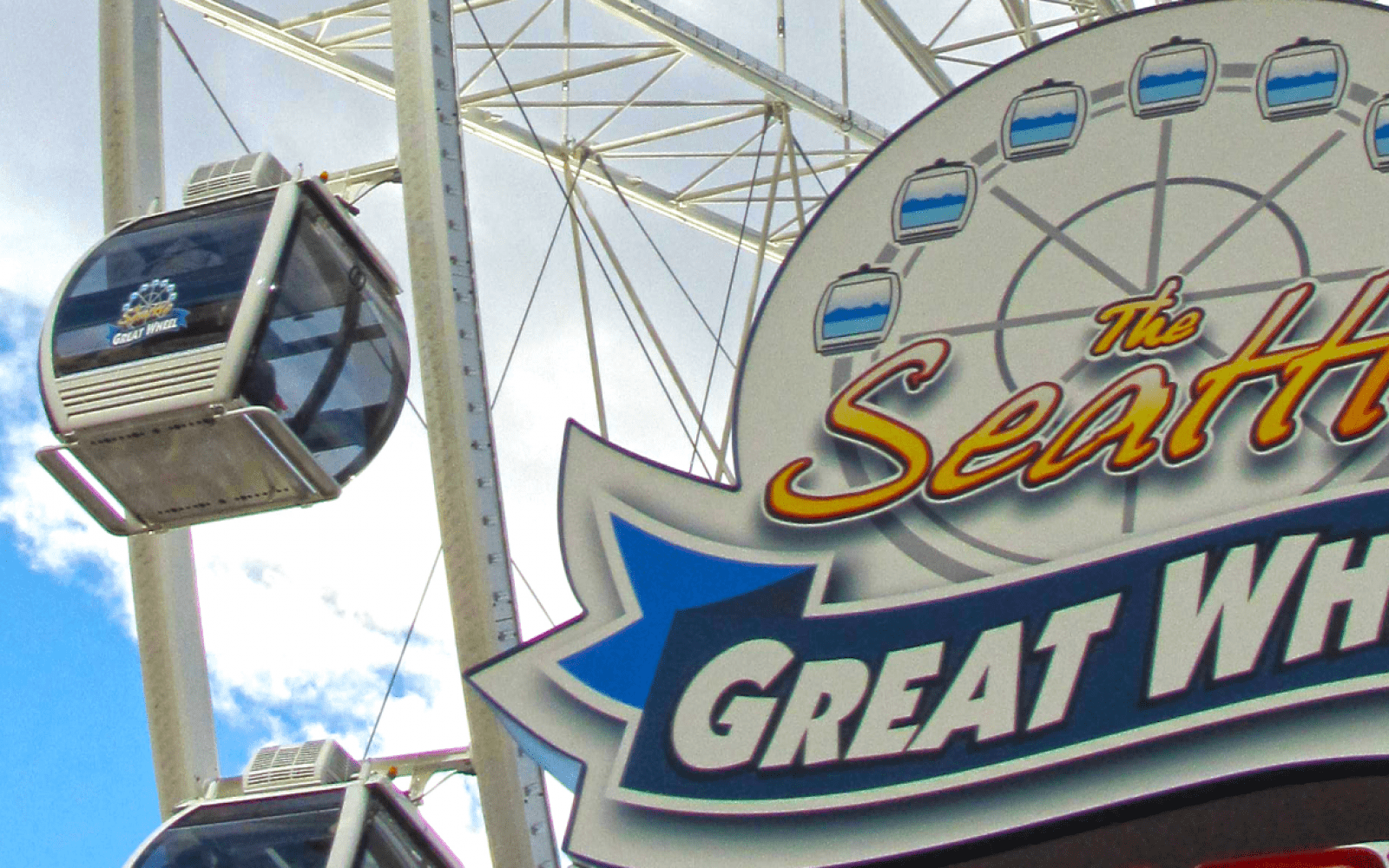 The Seattle Great Wheel Tickets
Don't Forget your Seattle Great Wheel tickets!
Easily purchase at the same time!
Tickets for children 0-2 and seniors (65+) only available at ticket booth. Not available online.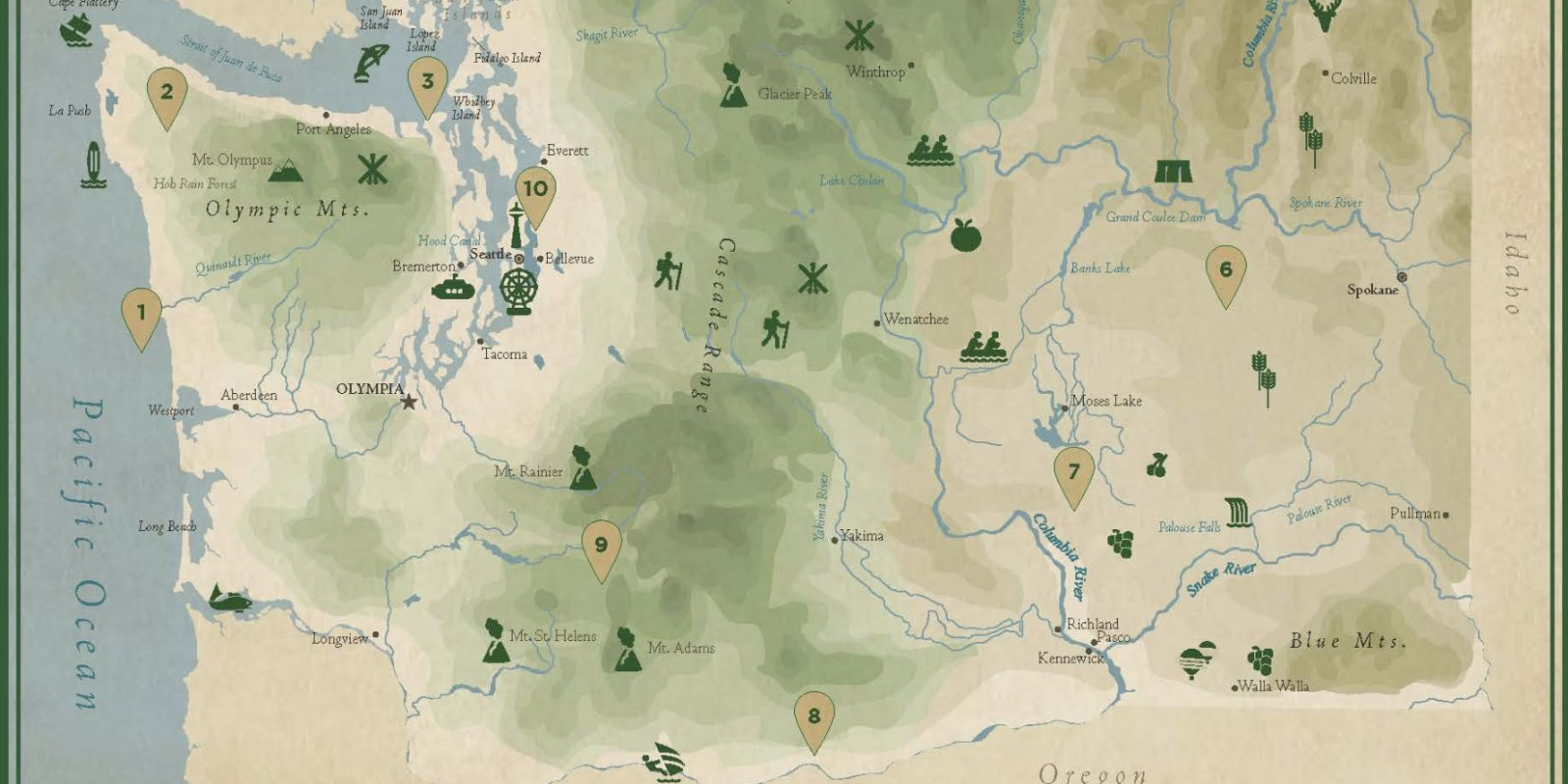 Wings Over Washington Coffee Table Book
Want to know all the places the ride takes you? Or are you in a heated debate on which mountain that really was? Recap your flight with the companion coffee table book that shows you in detail all of our beautiful state. See MORE of Washington.
From the stormy Washington coast and lush dark green of the Hoh Rain Forest to the stark and arid high desert and wheat-covered hills of the Palouse, the state of Washington is home to an incredible diversity of ecosystems and organisms—including the humans who hike its mountains and swim its waters. Where else can you find both the wettest place in the United States and the quietest? Or five active volcanoes, including one that blew its top not so long ago? Filled with stunning photographs and elegant descriptions, this book offers a comprehensive exploration of the remarkable region known as the Evergreen State and provides readers the opportunity to bring their experience home.
Learn More About the Book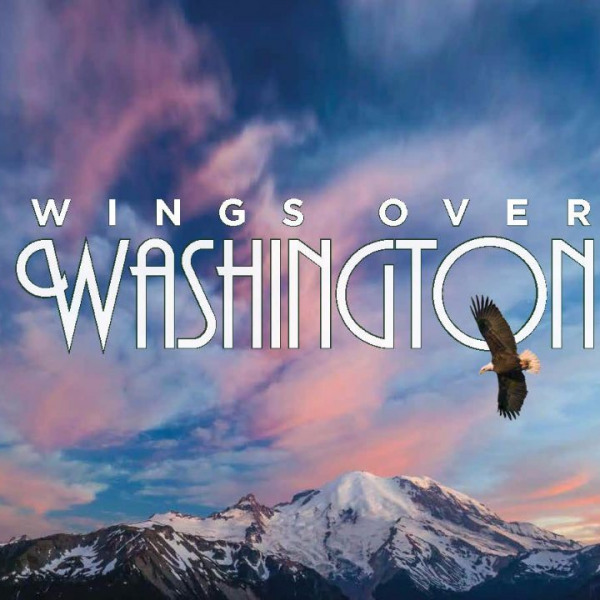 Frequently Asked Questions
I just purchased tickets online, do I have to use them the same day? It did not ask what day/time I want to ride.
All of our tickets are general admission, and are valid any day and any time. They are not day nor time specific. You can use the tickets whenever you want, and they never expire!
What is the duration of the Ride/Experience? Can I make reservations?
The entire experience is approximately 15 minutes to complete. We do not take reservations and load on a first come first serve basis. We load people into the ride every 10-15 minutes. The average wait time is 10-15 minutes, and when we are busy wait times may more than 30 minutes. Holiday weekends tend to be the busiest days of the year where wait times can be over 1 hour.
How do I redeem my photo digital download after I purchase my photo?
To redeem your digital download included with your photo purchase, go to https://pier57.myfunmoments.com/ and enter your 5 or 6 digit Code or Order Number from your photo purchase receipt. Images are archived for 2 weeks from the date the image is taken. If you have further questions, please email: [email protected]
What can I expect to experience on this ride? I have certain sensitivities I must consider...
Passengers will be strapped into their seats and taken on an aerial adventure over Washington. During the course of the show, you will experience mist in your face as you travel over water, the smells of the images you are seeing (example cedar smell as you glide through the forest, three fragrances in total), sudden up and down movements with momentary weightlessness, and extrasensory visual stimulation including bright lights and flashes. Persons sensitive to misting, artificial fragrances, sudden motions, and bright lights and flashes should be aware of these additions to your experience while you ride Wings Over Washington. The manufacturer also recommends that pregnant women do not ride without consulting your doctor.
I have an infant in a baby bjorn, can they ride on my chest in the bjorn?
Our ride specifies everyone must sit in their own seat, be fastened by the restraint system and must be a minimum of 40" tall. We cannot allow any children to be held in arms, laps, or baby bjorn. We are happy to accommodate parents that want to "switch off" in order to watch the children. Please notify the WOW ranger if you need assistance.
I want to purchase tickets as a gift. Are there gift certficates available? How do I get them?
We don't have "gift certificates" per say, HOWEVER, since the tickets never expire and are not day or time specific, you can simply purchase tickets online, print at home, and give them as gifts. All tickets purchased online are printed at home yourself. When you make an online purchase, you will want to enter the recipient information first. This can be the family name, or the name of a charity/group if you are giving the tickets to an auction or as a prize. Then you will UNCKECK the box that states "my billing info is the same", then enter your correct billing information. This way their name will print on the tickets, not yours. If you are giving tickets to multiple groups/sets of people, we reccommend you make one purchase per group as the group name will be printed on every ticket in one purchase. If you want separate group names, make separate purchases. Group name will not make a difference to us when redeeming the ticket; we simply need one valid ticket per person to board the ride.